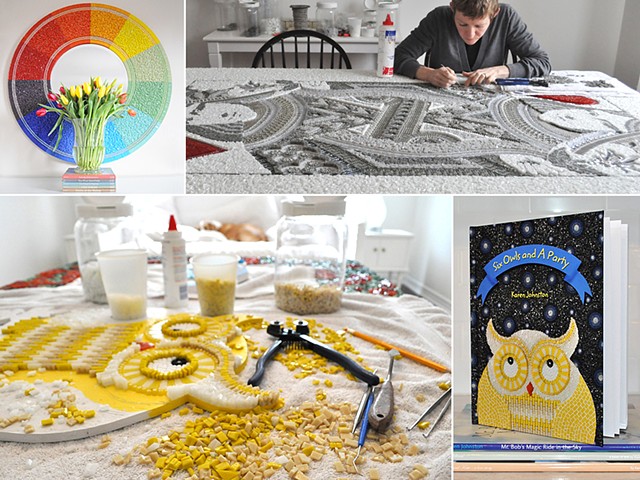 RECENT NEWS
I've created a bilingual version of my book of Six Owls and A Party, Six hiboux et une fête.
ABOUT MY BOOK
Six Owls and A Party is a children's book with mosaicked Illustrations. If you'd like to purchase a copy go to my shop.
I am available for school visits with my presentation, The Magic of Mosaics. For more information go to The Canadian Children's Book Centre.
As well I offer Mosaic Workshops (group and private).
Mosaicworks.ca is a small design studio that celebrates the ancient art of mosaics while giving a style called Picassiette a fresh and contemporary spin. Picassiette is a popular style of mosaicing that uses recycled or shards of broken china, glass, ceramic tiles, pottery, porcelain and whatever else the artist's imagination envisions to create rich tangible works of art that are functional as well as decorative. With time honoured craftsmenship Mosaicworks specializes in designing breathtakingly beautiful handmade panels and mirrors that are truly one of a kind.
Artist and Designer
The challenge of designing with varied materials, colours and textures is intoxicating to artist and designer Karen Johnston.
Schooled at OCAD (1984-1988) Karen started out working in advertising as a layout artist and an art director. From there her passion for design grew. She worked for many years as a freelance graphic designer before turning her creative energy to mosaics. In 2005 she established Mosaicworks.ca.